Pricing & Availability? Click on Get an Estimate
Inspired by the exotic Dark Pearl granite, a Brazilian stone from TheSize's Granith collection, this stylish, rippled slab incorporates wavy white quartz stripes on a grey backdrop. With a slated stone relief, the slab offers a mesmerizingly aqueous resembling of fluidity akin to flowing water evoking the flow of a mighty South American river.
The whiter and lighter grey striations are produced with a special technique which gives texture to the veining. Flecks of shine particle throughout the stone also create a beautiful nacre effect.
Care & Maintenance

Simple cleaning – A splash of warm soapy water will do.
Prevent patina – Wipe away any liquid spills and splashes. Natural, Honed, Concrete, and Rough finished may need more daily maintenance.
Removing stains – Gently rub with an approved cleaner and rinse. Natural, Honed, Concrete, and Rough finished may need more daily maintenance.

Please note that Natural, Honed, Concrete and Rough finishes require more cleaning than our Polished finishes. Since there is more exposed surface area with these finishes, metal marks, fingerprints and other signs of daily living will show. Most of these marks can be removed with little effort and non-abrasive cleaning products such as Soft Scrub Liquid Gel.
Edges

Your surface's edge profile can be custom-designed by a stonemason in a variety of thicknesses, from 20mm to 40mm or more, to optimize your design.

Please consult with us, not all edges are available in all areas.


Bevel
Doble Bevel
Full Bullnose
Double Bullnose
Triple Laminated Bullnose
Ogee
Miter
Double Radius
Pencil
Eased
Share
View full details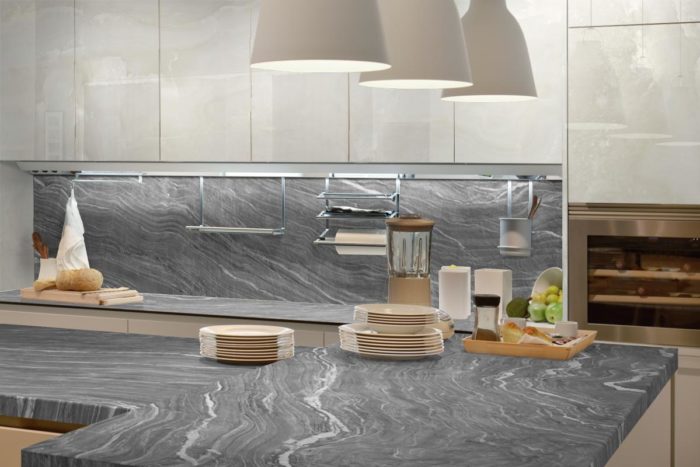 We want to help you with your project.
At Stone Exclusive we provide you innovative and exclusive surfaces for residential and commercial interiors. Just complete the form and we will contact you and give you a personalised quote for your project.
Get a Quote